Harding's Wild Simulated Ginseng Capsules are made from 100% pure eight-year-old ginseng root that we grow in the rugged Appalachian Mountains under the same conditions that natural wild ginseng thrives in. This method produces the highest quality and closest thing to natural wild ginseng that money can buy, harvested and processed under strict health standards. Each 400 mg capsule is power-packed with 100% pure eight-year-old wild simulated natural ginseng root powder.
Nature's Energy Booster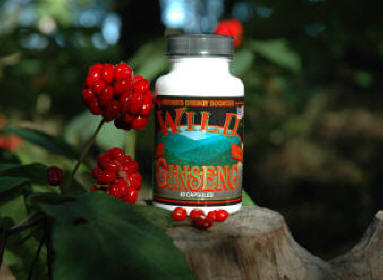 Call for Bulk Purchases and Wholesale Information.
Phone: 1-301-746-5380 or Toll Free 1-800-478-5394




---
Ginseng Capsules
Each bottle contains 40 count 400mg capsules.
Price $29.95 each
$8.95 shipping
---
Case of 12 Ginseng Capsule Bottles
(480 Capsules)
Price $298.95
Shipping FREE
The statements on this page have not been evaluated by the FDA. This product is not intended to diagnose, treat, cure, or prevent disease. CONSULT YOUR PHYSICIAN!! Harding's Wild Mountain Herbs makes no claims to its safety or effectiveness.